Asensus Surgical, Inc. (NYSE American: ASXC), a medical device company that is digitizing the interface between the surgeon and the patient to pioneer a new era of Performance-Guided Surgery™, hosted a ribbon-cutting ceremony for a new dedicated Operating Room Training Suite at the Amsterdam Skills Centre (ASC) on May 31.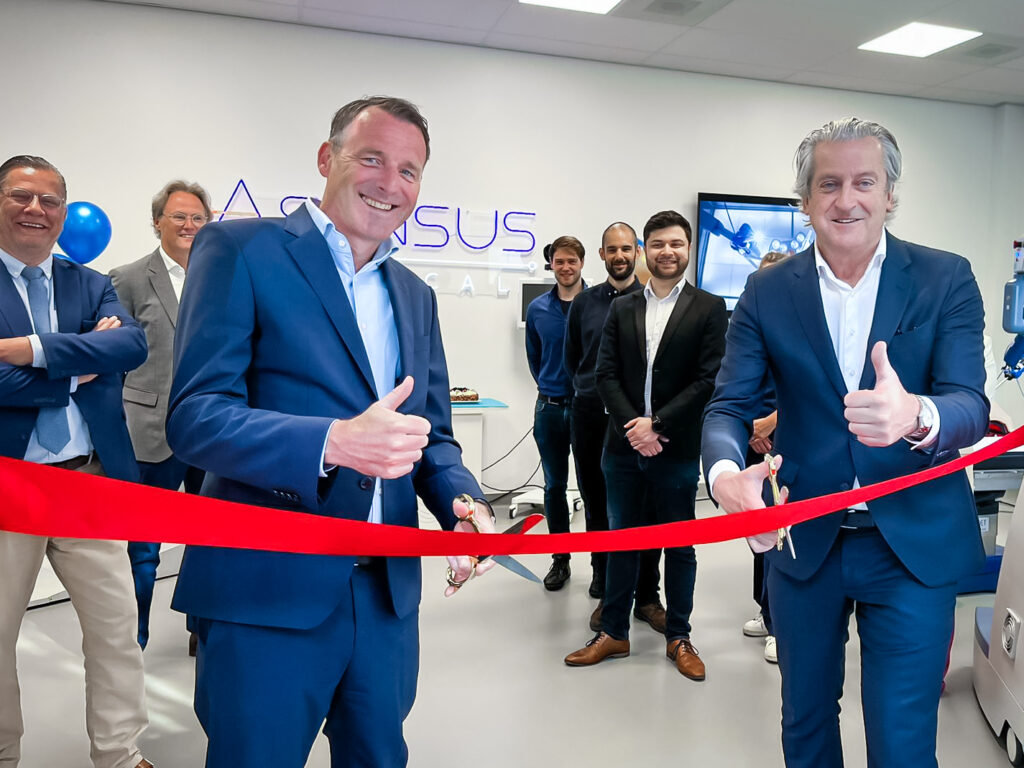 Wouter Donders (left) and Prof. Dr. Jaap Bonjer (right) cutting the ceremonial ribbon, opening the new training suite
The state-of-the-art training suite will continue to support Asensus' commitment to educating the next generation of digital surgeons by granting access to all of Asensus' leading-edge technologies. The suite includes the Senhance® Surgical System, the Intelligent Surgical Unit™ (ISU™) and its Augmented Intelligence capabilities, the telemetry tool Senhance Connect, and the innovative Senhance Simulator. Asensus and the ASC started their partnership in 2021 and the new training suite marks the beginning of the next phase of their joint mission to expand access to digital surgery training resources.
"Our new OR Training Suite has expanded our relationship with Asensus Surgical, a partner that shares our vision for improving surgical outcomes through real-time data insights and minimally invasive technology," said Prof. Dr. Jaap Bonjer, Professor of Surgery at Amsterdam University Medical Centre and CEO of the ASC. "Offering a comprehensive facility to train surgeons on cutting-edge platforms, such as the Senhance System, can help to reduce their training time and advance digital surgical solutions. We value our long-standing relationship with Asensus and look forward to continuing to grow the partnership at the ASC."
The ASC serves surgeons and staff with basic and advanced training on the Senhance Surgical System. It offers medical specialists and other health care professionals from all over the world an innovative learning environment with 12 high-tech operating rooms, operating robots, VR-simulators, a learning platform and services to fully digitalize the OR learning experience. The ASC is developing faster, safer and more efficient training modules that enable medical specialists to handle surgical interventions in a short period.
"The new dedicated training suite will help us continue to keep pace with training surgeons and hospital staff on the Senhance System and ISU as we continue to expand our footprint in Europe and around the world," said Anthony Fernando, Asensus Surgical President and CEO. "Our partnership with the ASC has been a valuable tool in advancing the impact of digital surgery and we are excited to grow that partnership."